A Brilliant Day For Sirius Academy West Athletes At The Hull Schools Athletics Championships!
[12 Jul 2019]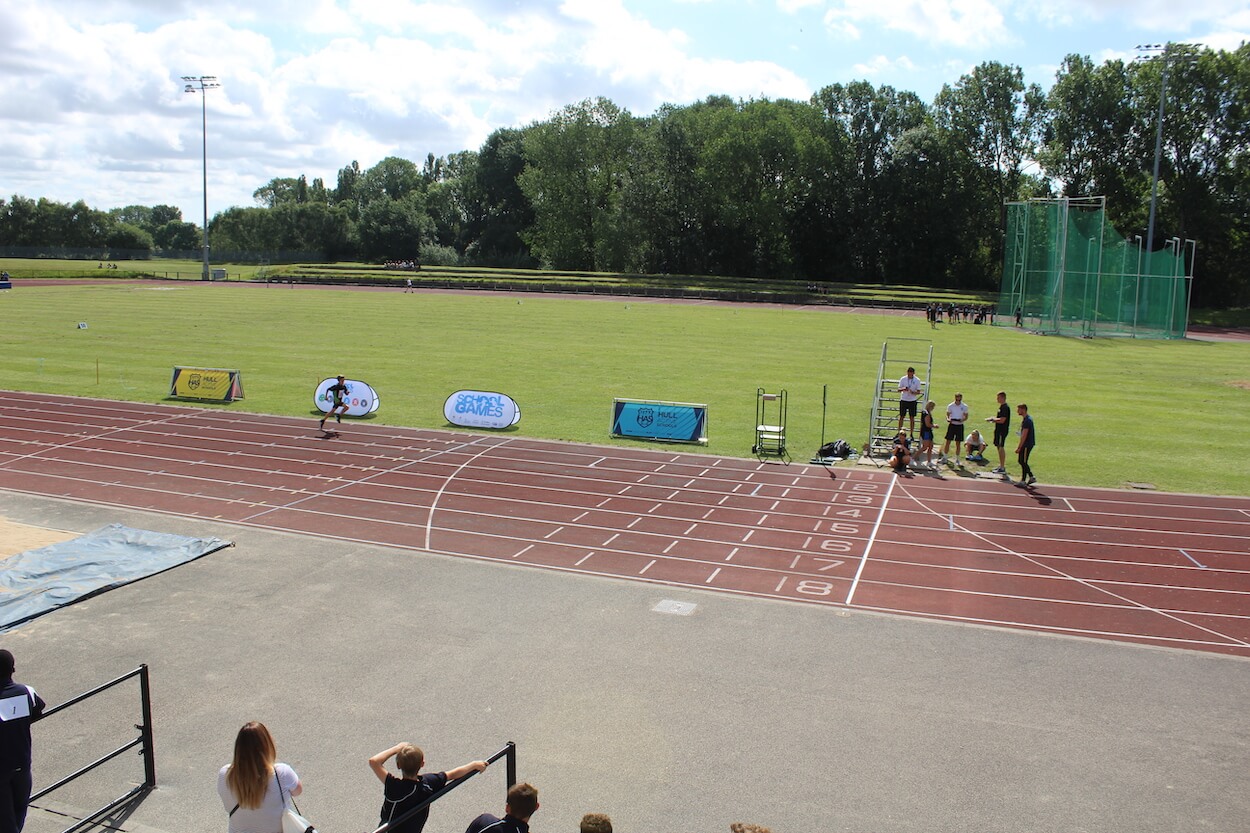 A brilliant day for our Sirius Academy West Athletes at the Hull Schools Athletics Championships with sixty medals won by individual or our teams.
The day started with a breath-taking display of middle-distance running I had ever seen from a Year 7 student. Luca Atkinson paced his run immaculately to surpass the other competitors who had set off too quickly and superbly got to the line first.
A great start and one which set the tone for the rest of the day – the success story continuing throughout the day with some great performances.
Multiple medals and achievements were achieved by outstanding displays from Lauren McClean who was majestic in her sprinting and totally dominated the opposition at 100m; 200m; and the relay. Lauren then also won the high jump competition. I deservedly think Lauren can be crowned the 'Queen of Sirius West Athletics'.
Our other victors in gaining 'gold medals' were Owen Fletcher Year 10 at 800m; Jess Taylor Year 10 at 800m; the Year 10 Girls Relay team of Lauren McClean, Jess Taylor,Gabriella Robertson and Chelsea Anderson; Lennon Wilkinson Year 9 Discus; Izzy Watts Year 8 Javelin; Jack Nillsson Year 7 200m and Javelin ; Luca Atkinson Year 7 800m; and Celestine Matumba Year 7 Javelin.
There were so many great individual performances that it would take an eternity to write about them all. However, I must mention two boys who found a sport to suit them and this came about within the teaching of athletics within the curriculum. Success was a surprise to them in Lennon Wilkinson in discus and Celestine Matumba in Javelin. Two great performances and even sweeter in that they had not really expected to win! It was great to see the smiles on their face on their return to the stands. This is what success brings along with some quality teaching from our staff!
A special mention to Ashley Salisbury who finished second in the Year 8 1500m to highlight that we can all succeed if we are positive and put our minds to achieving – a message to some of our students who might have competed at the games.
It was not just our 'gold winners' who stole the show there were some outstanding displays in runner-up positions. Notably in Harry Fenton Year 10 2ND at 1500m; Lydia Moore Year 8 at 800m.
In one of the races of the day Jack Mortimer was just pipped on the post in the Year 10 400m event- a great spectacle in a tough race.
Listed below are all those athletes who finished second or third and received medals, however all our competitors must be complimented for their superb efforts:-
SECOND PLACINGS:-
Jack Nillsson YR 7 100M
Nico Atkinson Yr 7 1500m
Year 7 Boys Relay Team : Jack Nillsson;Luca Atkinson;Noco Atkinson; Kian Goodhand.
Reece Shipley Yr 8 800m and Long Jump
Ashley Salisbury Yr 8 1500m
Liam Wilkinson Yr 8 Shot
Max Sadler Yr 8 Discus
Lennie Ellis Yr 9 800m and Long Jump
Jack Mortimer Yr 10 100m 400m and Long Jump
Harry Fenton Yr 10 1500m
Year 10 Boys Relay Team – Jack Mortimer; Harry Wallis; Darnell Byas; Owen Fletcher.
Leon Gray Yr 8 Discus
Lydia Moore Yr 8 800m and Discus
Chantelle Scott Yr 8 Triple Jump
Lucy Parker Yr 9 200m
Jess Taylor Yr10 Triple Jump.
THIRD PLACINGS:-
Kian Goodhand Yr 7 Shot
Luca Atkinson Yr 7 Triple Jump
Darnell Byas Yr 10 200m
Ruby Bennett Yr 7 100m
Year 9 Girls Relay Team – Chantelle Dunn, Nicole George, Alicai Griffith, Nicole George.
Ellie Robertson Yr 10 300m.
A great day seeing so many of our students being successful and beaming in that they had achieved something – a pleasure to witness and be a part.
Please congratulate all our competitors.
The overall team results are yet to be published.
Many thanks to the following staff for their support in ensuring a great day and success for all concerned- Beth Lowe; Emma Bore; Rachel Gay; Josh Hamilton; Martin Smith; and Julie Watson.