Humber Games – Further Success
[19 Jul 2012]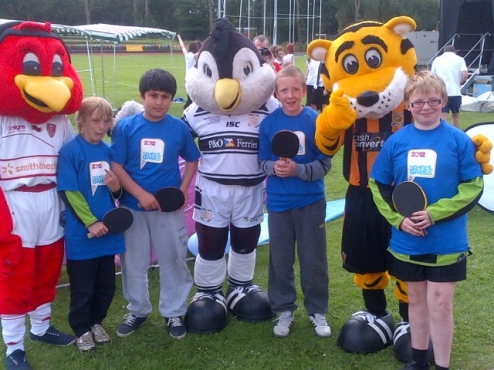 The Academy tasted further success on Friday and Saturday at the Humber School Games winning both the KS4 Table-Tennis and the KS4 Basketball.
The KS4 Table-Tennis team defeated teams from Hornsea, Havelock Academy, Wolfreton, St. Mary's and Humberston to add the Humber School Games to the Hull Schools and Humberside Schools victories earlier in the year. The KS3 Table-Tennis performed well throughout to finish third with Hussein Doski impressing on debut.
The KS3 and KS4 Basketball team travelled to Scunthorpe on Saturday to compete with other schools in the region. The KS3 boys, despite only having Y7s, battled strongly throughout against their Y8 and Y9 counterparts. The KS4 boys qualified from their group, which included their local rivals Kelvin Hall, before two outstanding performances in the Semi-Final and Final saw them triumph.
A group of Y9 Sirius Academy leaders also represented the Academy at the Humber Games Boccia competition on Friday at Costello. The students were responsible for running, organising and scoring the event. Feedback from both the competitors and the staff involved was excellent.
Please congratulate the students on both their peformanace and attitude at the events. There is a large article in today's Hull Daily Mail.
Thanks to Jon Flatman and Janice Hall for their support on the Saturday that enabled the boys to compete.
KS3 Table-Tennis: Leon Sizer, Hussein Doski, Andrew Walker and Liam Waudby
KS4 Table-Tennis: James Garrod, Daniel Taylor, Ari Sharif and Mitchell Levi-Lewis
KS3 Basketball: Jak Langley, Callum Baker, George Tyson-Wilson, Adam Kelsey, Kai Thorpe and Stephen Pougher.
KS4 Basketball: John Godwin, Tom Wilson, Alex Douglas, Zardasht Taha, Declan Rout, Oliver Anscombe and Tommy-Lee Gould.
Boccia Leaders: Ellis Greendale, Iestyn Longley, Olivia Pougher, Alice Taylor, Charlie Smith, Will Antcliffe, Jordan Duncan, Kimberley Elgar, Corey Mitchell and Alex Gibb.