Humber School Games, QUAD KIDS Event @ Costello 13th July
[19 Jul 2012]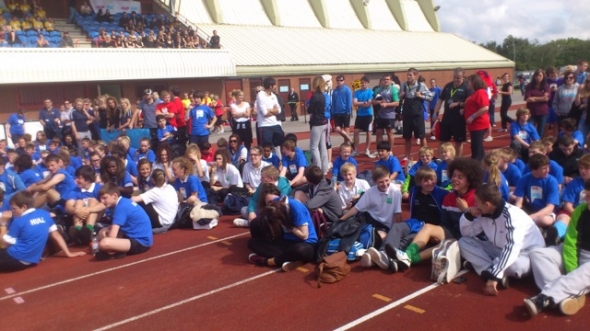 The academy did exceptionally well to qualify for the games initially at Year 7/8 and 9/10 Level.
Again some excellent individual results with the highlight of the day being the Year 10 Boys relay who got up in the final stride through George Scottow to snatch victory.
Please praise all athletes for their efforts.
Overall Athletics event results – Year 7/8
| | | |
| --- | --- | --- |
| Rank | Team | Points |
| 1 | COTTINGHAM | 1745 |
| 2 | VALE/SJN | 1712 |
| 3 | ST BEDES | 1690 |
| 4 | SIRIUS | 1672 |
| 5 | LONGCROFT | 1617 |
| 6 | ST MARYS | 1557 |
| 7 | CLEETHORPES | 1011 |
SIRIUS Year 7/8's
Overall Rank

Athlete name

100m (s)

& Placing

Long Jump (m)

& Placing

800m (mins)

& Placing

Vortex Throw (m)

& Placing

Overall points

UKA AWARD

1

CALLUM MAGEE

14.00 (8th)

4.15 (8th)

2.40(5th)

52.72 (1st)

285

Gold

4

CHRIS BROWN

14.00 (7th)

4.30 (5th)

2.47 (10th)

50.69 (3rd)

278

Gold

15

LUKAS MIKOLOUNIS

14.20 (12th)

3.95 (14th)

3.09

48.72 (4th)

244

Silver

19

KENAN STEPHENSON

15.30

3.60

2.50 (12th)

39.15 (13th)

229

BRONZE
| | | | | | | | |
| --- | --- | --- | --- | --- | --- | --- | --- |
| 8 | OLIVIA YOUNG | 14.00 (2nd) | 3.96 (4th) | 3.13 (13th) | 19.94 (17th) | 194 | BRONZE |
| 14 | EBONY HEPWORTH | 15.20 (12th) | 3.11 | 3.24 (17th) | 29.31 (4th) | 169 | STEP 6 |
| 20 | JOURDEN LONGDEN | 16.30 | 2.91 | 3.21 (15th) | 20.39 (15th) | 142 | STEP 5 |
| 22 | ESTHER GODWIN | 14.30 (5th) | 3.13 (20th) | 3.42 | 11.65 | 131 | STEP 4 |
Overall Athletics event results – Year 9/10
| | | |
| --- | --- | --- |
| Rank | Team | Points |
| 1 | COTTINGHAM | 2068 |
| 2 | ST LAW/SJN | 2011 |
| 3 | LONGCROFT | 1971 |
| 4 | ST MARYS | 1864 |
| 5 | AXHOLME/ST BEDES | 1778 |
| 6 | SIRIUS | 1574 |
SIRIUS Year 9/10's
Overall

Rank

Athlete name

100m (s)

& Placing

Long Jump (m)

& Placing

800m (mins)

& Placing

Vortex Throw (m)

& Placing

Overall

points

5

JOHN GODWIN

12.90 (11th)

5.23 (2nd)

2.35 (11th)

50.45 (11th)

319

7

ROHID ZAMANI

12.90 (12th)

5.13 (3rd)

2.34 (10th)

49.09 (13th)

315

22

BRANDON HEPWORTH

12.90 (13th)

3.75

0.00

70.45 (2nd)

221

23

GEORGE SCOTTOW

12.20 (2nd)

4.46 (15th)

0.00

44.76 (20th)

216
| | | | | | | |
| --- | --- | --- | --- | --- | --- | --- |
| 17 | SHANNON KAY | 15.40 (17th) | 3.15 (20th) | 3.37 (19th) | 34.72 (3rd) | 164 |
| 18 | ABBIE LONGLEY | 15.20 (15th) | 3.60 (11th) | 3.26 (17th) | 19.82 (12th) | 162 |
| 23 | MELISSA MCCANN | 15.90 (20th) | 2.80 | 4.39 | 18.24 (16th) | 112 |
| 24 | SHANNON ARMSTRONG | 0.00 | 3.10 | 0.00 | 20.12 (10th) | 65 |