KCOM Numeracy Tour – Christopher Pickering
[08 Jan 2018]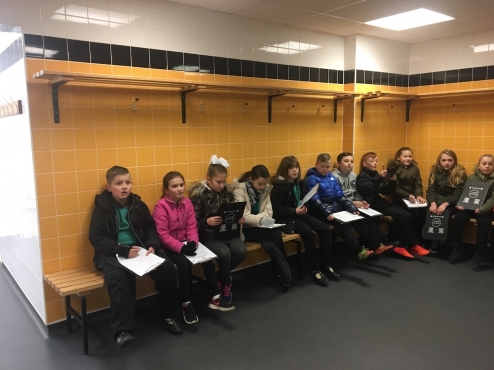 Twenty two year 5 students from Christopher Pickering spent the day at the KCOM stadium today developing essential numeracy skills. Whilst some of the boys and girls had been lucky enough to visit the stadium before, for many it was their first time.
Over the course of the morning, students learnt an array of facts about the stadium as they were shown on a tour by Run With It Hull. Students explored a range of aspects of the stadium including the different stands, changing rooms and interview rooms.
Along the way, students made notes and made calculations to figure out problems relating to the stadium and the clubs that play there. For example, if Hull FC was founded in 1865, how long has the club been running to date? For Miss Shaw, the most memorable fact she learnt was that the groundsmen spread over £1000 worth of garlic on the pitch a month to keep the worms away!
Students were then put to the test when they had to apply their new knowledge and findings into a competitive quiz before lunch. In the afternoon, students explored the club shop whilst finding answers to more multi-step questions.
All students were impeccably behaved on the day and were a credit to the Christopher Pickering staff. Well done.