National recognition as Academy is regional host for BBC Children in Need
[13 Dec 2013]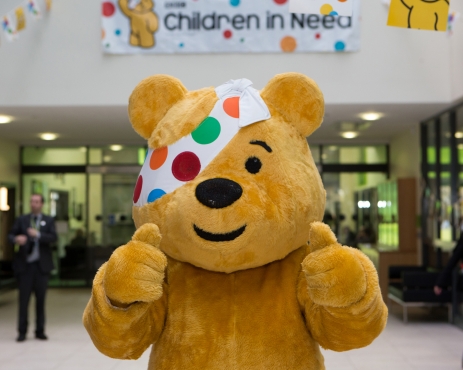 We are proud to have been East Yorkshire and Humberside BBC Children in Need Regional hosts 2013. All the excitement began prior to the actual evening when teams of electrical engineers, outside broadcasters, and gallery engineers transformed the building into a TV location. The dance studio became the operations gallery whilst the Heart-Space and grounds outside were transformed into Pudsey's fair. Metre upon metre of cables were laid between the satellite truck and the dance studio, with equipment being delivered over two evenings allowing a live broadcast to take place. The dance studio did look like NASA mission control and more fitting for a rocket launch than five or six short outside broadcasts. However it did demonstrate to students the immense effort that was
required to make live television. A Level physics students too had a first-hand opportunity to gain a real insight into the science behind making it all possible.
During the week prior to Pudsey's arrival students from all years and staff at the Academy took part in a range of activities, including the Great Sirius Bake Off… so many cupcakes it wasn't possible to even count them, the giant sweet sale and the Sixth Form's sponsored pyjamathon on the actual day. The Sixth Form held a special Pudsey's "Tea at the Top" in the Sixth Form Centre and terrace for members invited from our local community. Fundraising excitement continued to build when, on Friday lunchtime, Mr Duffil was a great sport and had his long hair cut and reduced to not much more than a short back and sides, which really boosted our total. The total continued to build with our raffles, which included amazing donations such as the Hull City Boxing Day match tickets, a fabulous hamper and signed Luke Campbell boxing gloves.
Year 12 and 13 girls from Hair and beauty raised £100 on the evening and all worked really hard representing the Academy in a professional manner. Thank you to all staff that supported us throughout the evening.
During the day a range of students also took part in the live lunchtime and early evening BBC Look North regional broadcasts. Whilst these were taking place, the Heart-Space was transformed with bunting and stalls selling all manner of items, too many to mention in fact. Externally a fairground arrived with a range of rides for children and there was even a goal scoring competition between Rory, the Hull City Tigers mascot, and Pudsey Bear himself. Inside, the action continued with a "busking" competition and dancing troupes. People from all over the region came to deliver the very important part of the evening… the huge cheques from various clubs, charities and stores. It was at this point that the crowd went wild as we cut live into the BBC National Children in Need programme not once but four times during the evening.
The event was a great success and a great showcase for the Academy. During one of the outside broadcasts head boy – Ryan Hinch and head girl – Paris Turpin were interviewed live and presented our huge cheque. In little over a week students and staff raised in excess of £3,000 due to the generosity of everyone and very kind donations from local business.