Sirius Academy West Year 7 Girls – Hull Schools Rugby League Champions
[10 Jan 2017]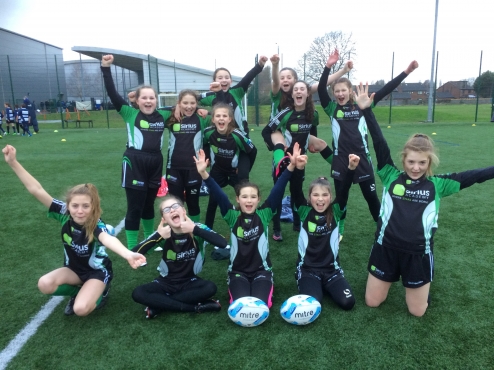 The Year 7 Girls played in their first rugby league tournament and ended up in first place after a fantastic team performance which saw them win every game in the Hull Schools Competition.

Sirius Academy West 6 Archbishop Sentamu 2
Sirius West started the competition with a convincing win over Archbishop Sentamu. It was Archbishop who went over first from close range, but from then on in the speed and skill from the Sirius side was outstanding. Lucy Parker opened the scoring for West with a try from the restart. The defence of the Sirius side was looking strong with Tegan Purdon and Jess Wood making sure they didn't get through them on the right hand side with some excellent tackles against some big strong girls. Sirius took the lead through Nicole Georges solo try before Mia Cheesman jinxed her way through to make it 3 – 1. Lucy Parker, Nicole George and Mia Cheesman all went over for another try each before Archie rounded off the scoring with a consolation try to make it 6 – 2 to Sirius West.

Sirius Academy West 3 St Marys 0
The Sirius defence was tested by a strong St Marys side, but they worked extremely hard to ensure they did not get over for a try. Lucy Stewart and Talia Martinez put in some good tackles in the early stages. It was just a matter of time before Sirius took the lead and it was Lucy Stewart who showed her strength and speed to go over. 2 more tries came shortly after, both from the speedy Lucy Parker who was proving too hard to tackle as Sirius West won their second game 3 – 0.

Sirius Academy West 4 Malet Lambert 2
In probably the most difficult game of the competition both sides cancelled each other out in the early stages before Lucy Parker again went over for a fine individual try. Malet Lambert equalled the scores. Nicole George put Sirius back in the lead, but Malet again equalised shortly after to make it 2 – 2. Runs from Chantelle Dunn and Leah Pearson put Sirius in good field position and Lucy Parker was smart enough to find the gap out wide after a quick play the ball. Nicole George sealed the game for Sirius after some good link up play with Lucy Parker making the final score 4 – 2.

Sirius Academy West 3 Sirius Academy North 2
Sirius Academy West knew that if they beat North then they would finish top of the league and find themselves as Champions of Hull. But North started the brightest and went over for an early try, Sirius responded immediately with Lucy Parkers full length try. North went over to extend the lead again but Nicole George equalised after a great run from Beth Waters had got West near the tryline. With only a couple of minutes remaining it looked like it was going to end in a draw, but Lucy Stewart had other ideas as her powerful run down the left saw her win the game for West.

The girls will now represent Hull at the Yorkshire Finals in February, and on the performance of today's tournament they have every chance of going even further in the competition. The team worked well together and should be extremely proud of themselves:-
Beth Waters, Tegan Purdon, Jess Wood, Chantelle Dunn, Nicole George, Mia Cheesman, Lucy Parker, Louise Stewart, Talia Martinez, Leah Pearson, Olivia Wivell, Alicia Coggil

Special thanks to Chloe Williams for her support with the team.