Sirius Starlets bring home 2 trophies
[12 Jul 2016]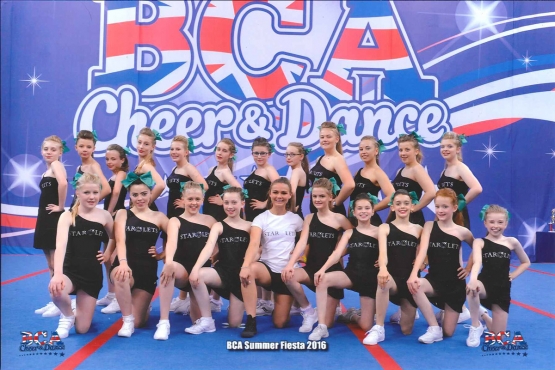 After a years worth of training, Sirius' very first cheerleading squad competed yesterday at the BCA Summer Fiesta in Sheffield. The girls competed in two categories, including Senior Group Stunt Level 2 (Macy Campbell, Ella Beedham, Mia Morgan and Elliemay Welburn – 2nd place) and Senior Cheer Level 2 (all 21 girls – 3rd place).

The competition was very strong but the squad held their own against more experienced club squads. Although for many, this was their first ever experience of standing of cheerleading, the girls performed professionally and with confidence. As a result, coaches from other teams and event staff made comment that they couldn't believe we were a school group.

A special mention must go to Ella Beedham who choreographed original material for the routine and dedicated herself to assist in coaching the squad on a weekly basis. Also, thank you to Miss Gay, Miss Williams and Mr Gordon for their support with the team on the day.

Please congratulate the girls on their outstanding achievement and dedication to training this year.
Squad
1. Libby Fox – challenger
2. Sadie Brocklehurst – voyager
3. Izzy Godney – challenger
4. Molly Hanson – challenger
5. Bethany Manning – challenger
6. Eloise Capel – voyager
7. Rosa Simms – enterprise
8. Katie Clark – challenger
9. Mia Morgan – challenger
10. Megan Frogett – enterprise
11. Megan Whittles – 6th form
12. Molly Marshall – discovery
13. Macy Campbell – discovery
14. Ella Beedham – 6th form
15. Paige West – challenger
16. Daisy Johnson – challenger
17. Lauren McClean – challenger
18. Ellie Hinchcliffe – enterprise
19. Elliemay Welburn – voyager
20. Megan Cole – challenger
21. Sally Bateson – enterprise