#ThisWeekatSAW – 14th October 2022
[14 Oct 2022]
Message from the Head of School:
Building on the success of last year's Restart a Heart Day, off-duty staff and volunteers of the Yorkshire Ambulance Service gave up their time today to provide lifesaving face-to-face CPR training to our Year 7 students.  Students were shown how to identify signs of cardiac arrest and how to perform hands-only chest compressions to give the person their best chance of survival before the arrival of an ambulance. Thank you to all staff, volunteers and students that took part in this vital lifesaving skill today.
The Academy is supporting the CHSF (Children's Heart Surgery Fund) and will be selling pin badges to raise money for this worthy cause.
We have more sporting successes to celebrate this week. A few to mention are – the Year 7s won their football game 2-1 against Hornsea School, Year 8 boys won 32-18 against Archbishop Sentamu and we had an impressive win with our Year 7 Rugby boys 14-0 against Kelvin Hall.
Homework reminder – all students in the Academy receive weekly homework. Please support the Academy and the academic progress of your child by ensuring this is completed every week and on time and please encourage your child to continue their reading at home.
As we approach the end of a very busy term, I would like to thank all parents and carers for their continued support in helping to maintain the high uniform expectations of students. As an Academy we will work hard to maintain this high standard and I thank you for your on-going support with this.
Even though we are 1 week away until the end of term, we still have many events and opportunities taking place within the Academy.  Please check our Facebook and Twitter pages to keep yourselves up-to-date with these.
Kind regards,
Gemma Ransom (Head of School)
RESPECT for Community- General Academy news
Maths Homework Support
We will be starting a homework club (primarily for maths) on a Thursday after school from 3-4pm upstairs in the IT suite outside 322-329.
This will be ran weekly and staffed by a member of the Maths team with the aim of providing support to students completing their Sparx Maths homework.

Leading Parent Partnership Award
We are always looking for ways to develop positive relationships with parents and carers. We acknowledge the huge role you play in enabling us to support your child at the academy. Increasing parental participation in school life leads to improved student progress, punctuality, attendance and behaviour.
The academy is delighted to be completing the Leading Parent Partnership Award.
The initial phase of this award includes asking parents and carers to evaluate our current provision. A link to the short survey is below. Only 2mins. Promise! All responses are anonymous.
https://app.awardplace.co.uk/stakeholder-evaluations/user-survey/63333f52322da
We are actively seeking parents and carers to join our Working Group. This will include a small number of meetings throughout the academic year, looking at improving our current offer, and reviewing feedback from the survey. Parents and carers can register an interest in joining the Working Group by e-Mailing [email protected].

Attendance Disco- Year 7 and 8
The Attendance Disco is back!
An incredible response to this last year. Nearly 200 students attending.
The next one is booked in for Thursday 20 October 2022. 4-6pm.
Students can secure their tickets by recording 100% attendance for the three weeks prior to this. Friday 30 September – Thursday 20 October.
10 academy days. All you have to do is be here every day. Easy!
Entry will include access to the disco, DJ, photobooth, lights and smoke machines, glow sticks and glitter, and food and drinks.

Half-Term 1 – 100% Attendance Vouchers
Thank you to the regular support provided to ensure that students maximise their attendance at the academy.
Our attendance is significantly higher than the National Average and that of other schools in the local area.
Regular attendance at the academy is linked to far better outcomes.
The penultimate week of a long first term back. Throw in Hull Fair and Bus Strikes too. It's been a challenge! Attendance continues to be strong though.
Next week, students with 100% attendance will have the chances to win Gift Vouchers in their Year Group assemblies. Good luck!

Personal Development – Term 1 Challenges
As part of our Personal Development offer we are delighted to provide students with the opportunity to participate in some subject-themed challenges!
Students in Year 7, Year 8 and Year 9 can win their place on a trip by providing evidence of completion. These include Christmas tours to York and trips to Rock City.
The challenges below are specific to each Year Group.
Year 7 – Create a Castle or Volcano
Year 8 – Design a Bridge
Year 9 – Participate in an Outdoor Adventurous Activity
Each poster will provide more information about the method of submission, deadline for submission and how students can access more support.
There will be different challenges each term.
Good luck!
Cadet Force Visit
This week our Combined Cadet Force (CCF) had a visit from a former student who has since joined the British Army. The students enjoyed developing leadership, teamwork and communication skills through command tasks.
Our Combined Cadet Force Unit (CCF) meets weekly after school on a Tuesday from 3pm to 4.10pm.
Please speak to Ms Faulkner for more information on the CCF and how to apply.

Sirius Annual Holiday Market 2022 Competition!
What better way to spend a sunny Wednesday than supporting Year 10 Travel & Tourism students in their FIRST EVER ENTERPRISE Holiday market competition!
Students created high end holiday packages ready for the Sirius crowds! Staff and students flocked down to the heart space to see our Holiday Rep Extraordinaire use their entrepreneurial charms to gain their visitors votes for their favourite holiday packages!
Students handled the crowds in their stride and the votes came in thick and fast!
Results will be announced next week for the team that has accumulated the most votes, but all students are Enterprise Winners!! Well done!! Ms. Smalley would like to thank everyone for their support!
Sporting successes this week
Well done to the Year 8 boys football team who went to Wolfreton in the ESFA National Cup 2nd Round and came away with a 6-1 win.
Goals from Rhys Hartley, Harvey Morrill, Jacob Last (2), Clinton Turner and Lennon Petherbridge.
Well done to the Year 7 boys rugby team who recorded a 32-10 win over South Hunsley to qualify for the Yorkshire Cup as one of the top seeds from the city.
Squad: Charlie Collins, George Tupling, Ollie Beaumont, Joshua Taylor, Billy Bob Donogue, Alfie Wright, Charlie Price, Mustapha Jrboh, Freddie Fletcher, Archie Palmer, Zead Amin, Jack Stewart, Cameron Stephenson, Jay Hutchinson, Noah Watkins, McKenzie Franciosy and John Gray.
Our Year 11 rugby boys continued their fine form with a resounding 46-12 win over Malet Lambert to qualify for the Yorkshire Cup as top seeds from the city.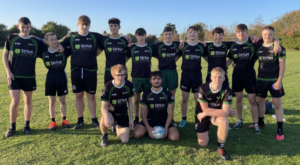 Squad: Eligh Wilkinson, Mason Walker, Finley Mainprize, Cohen Cass, Jack Gray, Kieran Clemitshaw, Matty Grant, Sam Howe, Harry Fletcher, Alan Pawlowicz, Ben Grant, Kian Goodhand, Jay Dawson and Declan Hunter Jewitt.
RESPECT for Education – Lesson 1 Content
This week the students have completed the following tasks in their Lesson 1 lessons. Please discuss with them as we continue to develop the knowledge of our students:

Culture Task
This week students focused on Clive Sullivan as part of our Black History Month tasks. Sullivan is a legend within the city of Hull after representing both Hull FC and Hull KR. He famously led England to their last Rugby League World Cup win in 1970. His impact can be seen by the naming of the major road in and out of the city, 'Clive Sullivan Way'.

Votes for Schools Topic (Key Stage 3 students only)
This week the students discussed the topic of 'Does the internet affect the way we view relationships?'.

Character Education
Character Education is a time-tabled lesson within our Lesson 1 curriculum in which students focus on skills and traits which will allow them to be successful in not only their academic studies but also in other aspects of their life.
This week students have focused on:
Year 7 students have began setting their goals for the term in their student planners. We encourage parents / carers to view these on Page 16 to look at the goals that students are setting.
Year 8, 9 and 10 students focused their lesson finishing goal-setting grids and then moved onto their WOW planners which break down the goals into how they plan to achieve them. We encourage parents / carers to view these on Page 16 to look at the goals that students are setting.
Year 11 students focused on their goal-setting grid and began to look at setting their goals for the coming year in the different categories. They then moved onto their WOW planners which breaks down how they could achieve their goals. We encourage parents / carers to view these on Page 16 to look at the goals that students are setting.
RESPECT for Education- Curriculum Area 'Students of the Week'
Each Curriculum Area will nominate a student each week who has shown through their lessons that they have met the RESPECT values of the Academy. The reason for the selection is highlighted below:
Curriculum Area
Student Name

Reason for Nomination

English

Jacob Matthews
(Year 8)
Jacob has been an absolute superstar in his English lessons, completes all the work and always puts in 100%.
Maths
Harvey Redfern
(Year 7)

Listening carefully and working hard in every lesson this week. Well done Harvey!

Maths

Chelsea Rowson
(Year 11)
Excellent effort in all maths lessons, 100% homework completing and attending Further Maths each week.

Maths

Nicole Hammond
(Year 7)

She always completes her Sparx homework and offers to help others in class.

BTEC Sport
Jordan Shaw
(Year 10)

He has produced some excellent green pen work this week for connect tasks.

PE

Kayden Andreang
(Year 9)
Outstanding effort in Cross country with a time of 4 minutes 53 seconds, currently the fastest student to complete the course in the school.
MFL
Keira Taylor
(Year 10)

For a fantastic start to GCSE Spanish. Keira gives 100% in the lesson.

Health and Social Care

Madison Conway
Ruby Bennett
Ruby Thornton
Casey Lewis
Chelsea Rowson
(All Year 11)

Fantastic attitude, meeting the coursework deadline with excellent work.

Health and Social Care

Matthew Frankland
Phoebe Marris
(Year 11)

For their effort and progress in intervention sessions.

Art

Mason Cox
(Year 10)
For a huge positive change in his attitude to learning and his massively increased effort in the subject. He has been a pleasure to teach across the past 2 lessons.
Travel and Tourism
Brooke Hopkins
(Year 10)

Demonstrating leadership skills in and out of the classroom and a fantastic performance at the Holiday Market.

Travel and Tourism

Arnas Liukauskas
(Year 10)
Braving being solo in the Holiday competition and his fantastic positive attitude.
Business Enterprise
Arnas Liukauskas
Vittorio Gato
(Year 10)

Outstanding effort and contributions in lessons.

PSHE

Jacob Mulligan
(Year 7)
Always takes an active part and gives some really thoughtful answers and opinions.
PSHE
Ronnie Hanchett
(Year 8)

Always willing to answer questions and share his views, I have been very impressed with some of his questions this week – very mature.

PSHE

Grace Sharp
Ellis Shipley
Madison Conway
(All Year 11)
All completed logon move on and have now sent or in the process of sending applications to colleges.
PSHE
Lily Hammond
(Year 8)

Contributing to class discussion with enthusiasm and thoughtful ideas.

PSHE

Brendon Patrick
(Year 7)
As he is always focused throughout and is always willing to share his thoughts and answers with the rest of the class!
PSHE
Kordian Wilson
(Year 7)

For always participating in class discussion and providing both detailed and insightful answers.

PSHE

Alyssia James
(Year 8)
For engaging in the topics, we are covering in PSHE and for making thoughtful contributions to class discussion.
PSHE
Joseph Wood
(Year 7)

He always gives such mature and considerate answers and tries his hardest always!

PSHE

Josh Guynan
(Year 9)
Always willing to share his opinion and join into conversations regarding the PSHE topics.
Year 11 Focus Group
Chidimma Dim
(Year 11)

She is attending regular intervention sessions each week for Maths, English and Science. 100% attendance and punctuality. Model student!
Final thought
"Be the best version of yourself"
The next parental bulletin will go live on Friday 21st October 2022; enjoy the weekend.
Mr A Kay (Assistant Head Teacher- Pastoral and Attitudes to Learning)