Tour de Sirius
[15 Jul 2013]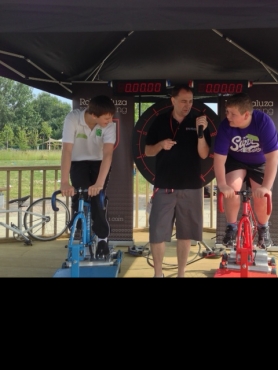 We had a great day with lots of fun and students did really enjoy themselves tremendously. Most exciting was the grand finale with best Year 7 boy Ben Fairburn and best Year 7 girl Kayleigh Walker producing an outstanding final race which Kayleigh managed to win by a margin. Lots of medals were given out to runners up and the house cup of the Slow Race on the Ganton track went to Voyager with Jack Naser beating everybody by a mile.
Thanks to everybody in the school office and caretaking staff who worked behind the scenes to get things ready, all the staff who volunteered to run activities with special mention to Emma Cunningham and Helen Csoppu who spent all day at the "Make your own medals table" which proved so popular we had run out of icing by break time and had to get more. Thanks to all staff who accompanied their groups and took good care of them and even participated in the bike events and any staff who came just down to help. Extra special thanks to Claire Smalley who came up with all the brilliant ideas and helped to prepare the event with her Y12 Business students. Another extra special thanks to Natasha Pearson who is a brilliant organiser ably supported by her group of 6th formers who staffed The Petanque and Diabolo sessions.
So it went well and we are all ready to do it again next year. Bring on Tour de Sirius 2014!!!