Y7 National Cup – Friday 24th January
[27 Jan 2020]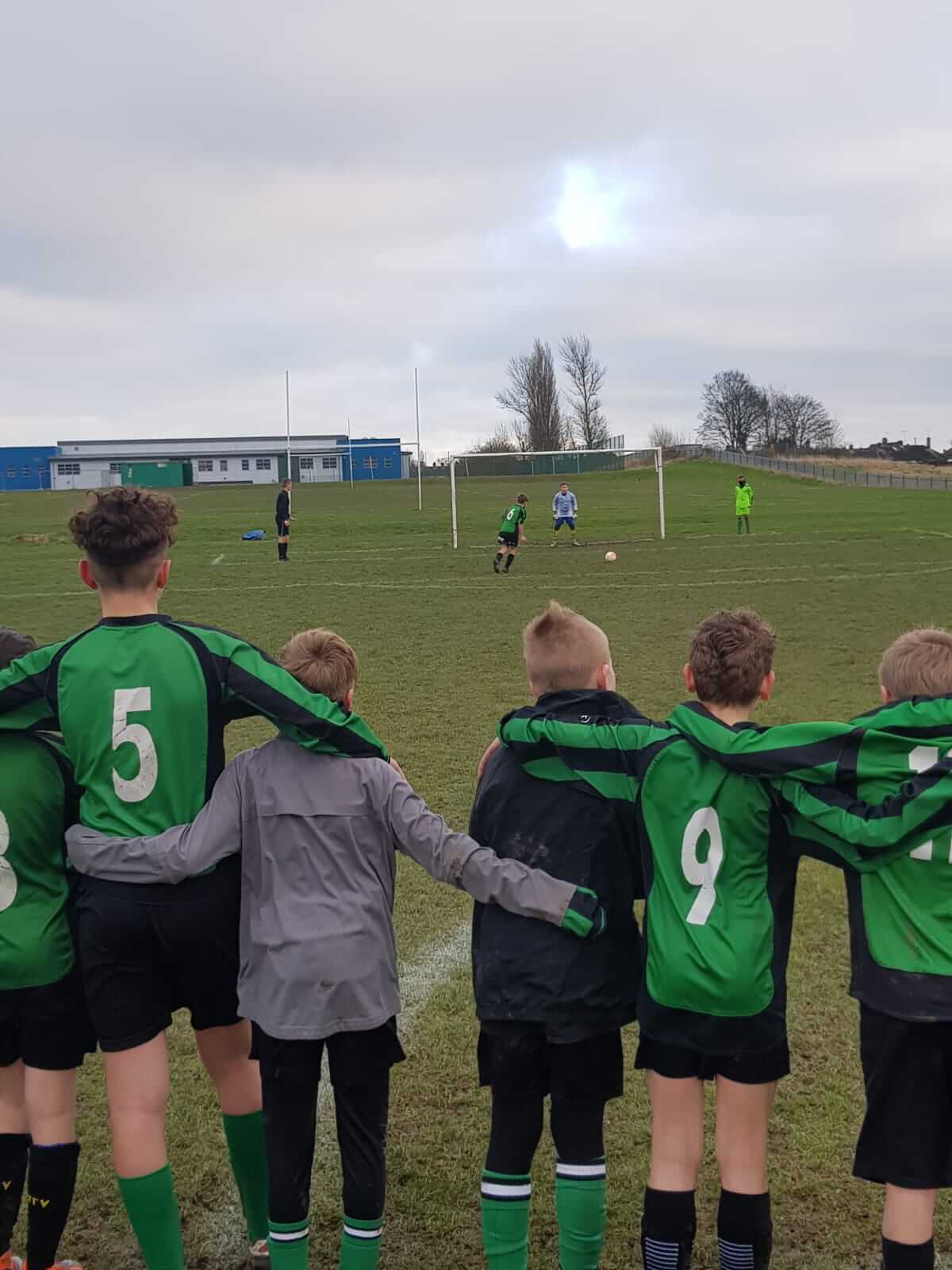 On Friday 24th January we made the relatively short journey west along the M62 across to St WIlfrid's Catholic High School. With over 600 teams starting in the competition way back in September, going into the final 32 the prospect of an 'easy day at the office' looked slim…by crikey was that the case!! Sirius made a very bright start, coming out the traps all guns blazing with some slick passing and some very quick pressing to win the ball back when possession was lost.
The first goal came relatively quickly and it was Alfie Maskell who drove into the box and square and enticing ball to the oncoming Charlie Birdsall who was able to control, turn and finish. 1-0 what a start!!
If anyone in attendance thought that that would mean Sirius would cruise to victory were mistaken. Sirius maintained their good position and pressure but Wilfrid's were a constant threat on the break and used their strengths of a powerful and pacey forward to keep the boys on their toes. It was this ability to break quickly that lead to Wilfrid's equaliser. After a quick break and some good hold-up play the ball came to the oncoming midfielder who hit a rocket of a shot in from 20 yards which few keepers in this year group would've been able to stop. 1-1
This didn't down hearten the boys though and they continue to work hard and play some excellent football on a difficult pitch. The game ebbed and flowed until Maskell picked the ball up in the middle of the pitch, drove forward and plyed a sublime pass out left to Filip Szkoda who was able to control, dribble into the box and finish with a tremendous lofted effort across goal and nestled in the top right corner. 2-1 going into half time.
The change in gradient would mean a slightly difference performance would be needed. Again, Sirius had lots of possession but Wilfrid's were able to utilise going up hill as their through balls were now holding up for their striker who wasble to latch onto one and make it 2-2 with a very tidy finish.
Like buses, goals often come in 2's and Wilfrid grew into the game and were able to continue to test us. Shortly after their 2nd they were awarded a penalty which was calmly dispatched, 3-2 St Wilfrid's. With 15 minutes to go there was still lots of time for the boys to fight their way back. But as the minutes ticked by and with Wilfrid's resolute defending it started to feel that perhaps this would be the end of the line…or was it??
With a glance at my watch there were just over 5 minutes to play…corner. If it was going to happen it would probably be now. BANG! A whipped Maskell corner was placed slap bang on the forehead of the mountainous Jay Dawson. It was like a roaring team train the way it hammered into the back of the net 3-3!! Despite having a heart rate monitor in my watch, I felt it would be unwise to check it at this particular moment…
It looked like extra time was looming and perhaps the dreaded penalties. Until Maskell danced his way into the box and was brought down…PENALTY!!!
In a pressurised situation like this, my advice to any taker would be to hit it as hard and hit the target (perhaps not everyone would agree with this guidance). The penalty was struck with absolute ferocity by Alfie Maskell but the keeper was able to make a genuinely outstanding save, tipping it over the bar. The keeper had been tremendous all game so it was not a surprise to see him make the save and 9 times out of 10 the penalty would have probably broken the net and settled the game.
FT 3-3
Tired legs and minds meant that extra time didn't create too many chances, though both teams showed outstanding work ethic and passion. On to penalties we go.
Wilfrid opted to go first. Tom Marsh got a hand to it but the power took it in. 1-0
Kai Clark was our first taker and with the coolness he displays in all of his performances tucked it away nicely 1-1.
Wilfrid stepped up to make it…SAVE!!!!! Marsh stood up tall to make a tremendous save! It REMAINS 1-1.
Next for Sirius was Clifford Appiah, who has been brilliant this year. Firm strike, 2-1. On his way back he said "that was the worst feeling ever!". As a penalty taker and misser in my own experience, I can only agree with him.
It was back over to Marsh. He's done it again!! Another save keeps the score at 2-1.
After the late penalty save, it was with bottle and character by the bucket load that Alfie Maskell stepped up next. Cracking finish into the side netting 3-1.
Wilfrid expertly slotted theirs home, no chance for Marsh, 3-2.
The amount of running Szkoda did during the game I'm amazed he was able to stand, let alone take a penalty. But take it hedid. Never in doubt! 4-2 and they were through to the 7th round of the national cup.
From 600 down to just 16, an incredible achievement.
All the boys showed unbelievable attitudes for the entire match. Their character, hard work and determination are are credit to them and our Academy, please congratulate them when you see them.
Squad:
Tom Marsh
Jake Jones-Williams
Kai Clark
Jay Dawson
Alfie Welton
Charlie Birdsall
Alfie Maskell
Clifford Appiah
Lucas Forlow
Jason-Lee Litten
Freddie Dawson
Theo Mainprize
Filip Szkoda