Year 11 – 13 Girls Rugby Union Team win Hull Colleges Competiton
[22 Oct 2015]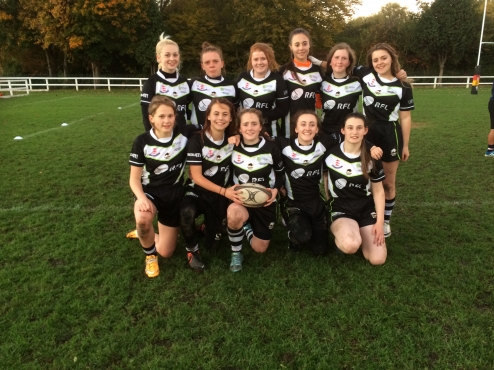 Sirius Academy Year 11 – 13 girls won the first Girls Hull Colleges Rugby Union Competition as they beat Wolfreton 6th Form and Wyke College in the round robin tournament.
Sirius Academy 6 Wolfreton 3
In a tough test against Wolfreton 6th form, the Sirius girls started well, with Jorden Shakespear picking the ball up near her own try line and making good yards forward. Nearly every player contributed in driving the ball forward near to the Wolfreton try-line, and it was Jorden Shakespear who finished off the move to score under the posts. Wolfreton looked good in attack also, and managed to go over the try-line shortly after. Sirius responded well, with Jodie Shimmells and Megan Kay taking the ball up well, and once again it was the dangerous Jorden Shakespear who showed her speed and strength to break through the line and get her second try of the game. Wolfreton got another try back after some weak defence on the flanks. But again Sirius took the lead, this time it was captain Shauna Jones who was causing the Wolfreton team problems, and when she sent Paige Fletcher through a gap down the wing it made the scorleline 3 – 2 to Sirius. Wolfreton powered over to level the scores, but just before the halftime whistle Shauna Jones got a well deserved try of her own as she stepped her way through the Wolfreton defence, with a fine solo try. In the second half it was all Sirius, as they really defended well, with Aimee Harris, Emily Savage and Jess Gray putting in some good strong tackles and winning the ball back in good areas. Jorden Shakespear completed her hat-trick as she finished off a fine move in the middle of the park before Sirius extended their lead even further when Paige Fletcher went over in the corner. The final whistle went and Sirius celebrated their 6 – 3 win over a very strong and well organised Wolfreton 6th form team.
Sirius Academy 3 Wyke College 0
Sirius managed to beat their next opponents with a convincing victory over Wyke College. Sirius got on the scoreboard from the kick off, when Jorden Shakespear powered her way through three would be defenders and showed her speed to run almost 80 yards for a superb try. The defence was looking solid from the Sirius team as they put in some fantastic tackles to ensure that Wyke did not get over the try-line. Leading the way was Shannon Thornton, who tackled everything that ran at her, showing real determination. Shauna Jones was leading her team well and looked outstanding in defence and attack. Again, some good build up play from Jodie Shimmells and Emily Savage put the Sirius girls in a good position on the field for Jess Gray to show her strength and go over for a fantastic team try. Just before the final whistle Olivia Young got a well deserved try after a great long pass from Shauna Jones to the speedy winger, and there was no stopping her as she crashed over.
Please congratulate the Year 11 – 13 Girls Rugby Union Squad on their outstanding performance, attitude and behaviour.
Squad: Shauna Jones, Jorden Shakespear, Paige Fletcher, Emily Savage, Shannon Thornton, Jess Gray, Megan Kay, Jodie Shimmells, Braxtan Adams, Aimee Harris and Olivia Young