Year 11 Girls Rugby League – Feb 2017
[09 Feb 2017]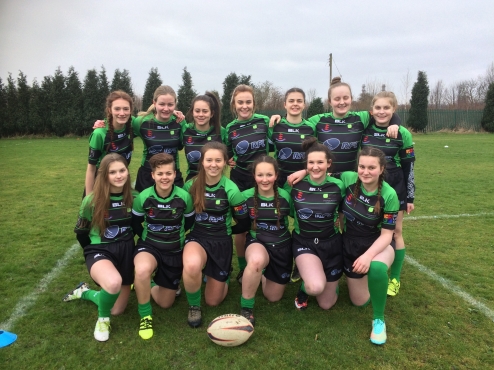 The talented Year 11 girls played in their last ever Yorkshire Tournament today at Castleford. With a depleted squad consisting of only four Year 11 girls that have played continuously from Year 7 that have made the National Final for the last four years it was always going to be an uphill battle, but massive credit must go to the 6 Year 10 players that stepped up and also three new players of Ellie Smirk, Ameera Jessop and Chloe Faulder.

Sirius Academy West 3 Crofton 0
In freezing conditions, Sirius started the game at a high intensity pace and looked good from the start. Crofton were clearly a rugby union team and kept offloading the ball well, but our scrambling defence managed to keep them out on several occasions. With the ball in hand we looked dangerous and it wasn't long before we got over the tryline as Danny Waters stepped her way through the defence. Mia Duke continued with her fantastic performances for Sirius and a trademark scoot ensured Sirius doubled the lead. Defensively Shannon Jordan, Cameron Shakespear and Lauren Sutton were looking solid in the middle of the park to keep Sirius a clean sheet in their first game. Sirius rounded off the scoring with a well worked team try that ended in Amy Purdon going over from the wing position.

Sirius Academy 2 Outwood Grange 1
This was always going to be the closest game in the league stages, as Outwood were a big strong organised side. But Sirius were playing really well as a team and fighting for each other in attack and defence as they shared the work out. Molly Bigby was the first go over as she showed real determination to get the ball down with four defenders around her. Molly Bigby was taking a real lead role and played an important part in the next try and she performed a pin point accurate pass to winger Ellie Smirk as she went over in the corner for debut try. Outwood Grange got back to back penalties on our line and went over for a late consolation try.

Sirius Academy 3 Settle 1
Sirius knew that if they won this one they would top the group and went out all guns blazing with a great individual early try from Mia Duke. Emily Andrew and Amelia Longden were showing their experience with some good runs to get the Sirius side into good field position. Molly Bigby was influential in her new role as play maker and went over for another solo try. Chloe Dunn, who was taking the ball in at every opportunity burst through the defence and just got caught on the twenty meter line, a quick play the ball saw Mia Duke do what she does best and scoot over to make it 3 – 0. Cameron Shakespear and Emily Smirk had to leave the field of play due to injury as Settle went over before the fulltime whistle.

Sirius Academy 1 Castleford Academy 2
In the playoff game it would be a re-run of last year's game, where Sirius just edged the game on a golden try, so it was always going to be a close match. Both teams knew that whoever won would go on into the National Finals. A knock on by Sirius from the kick off gave Castleford a set of six near their try line, the big strong Castleford side, that consisted of a squad of 19 players looked full of energy as their big forward powered over from close range. In true Sirius style, they responded well with a try from captain Mia Duke, who ran the full length of the pitch showing strength and speed. Sirius defended well for the next set of six, but when they got the ball back they knocked on at the first tackle on their own tryline. Again, Castleford capitalised on this with their forwards and powered over once again. Sirius tried their best to get a try back but the ball was forced with one too many passes as they knocked on near the Castleford tryline, final score 2 – 1 to Castleford Academy.

All the girls can hold their heads up high for a real team effort that they should be extremely proud of, and although they did not get the result they wanted today, the last four years what they have achieved has been nothing short of incredible and I want to thank them personally for their attitude, behaviour and performances. Considering none of them had picked up a rugby ball in Year 7, they have achieved in Rugby League – 3 Yorkshire Cups, 4 National Finalists, 1 National Cup and a Sports Team of the Year Award, all led by an outstanding captain and ambassador for the Academy – Mia Duke. I am very proud of each and every one of you who have played a part in this successful Sirius Academy Girls Rugby League journey.

Squad: Mia Duke, Amelia Longden, Molly Biigby, Emily Andrew, Ameera Jessop, Chloe Faulder, Ellie Smirk, Danny Waters, Cameron Shakespear, Shannon Jordan, Lauren Sutton, Chloe Dunn, Amy Purdon

Special thanks to Miss Shaw for her outstanding support with the team!