Year 11 Girls Win Hull Schools!!
[01 Apr 2014]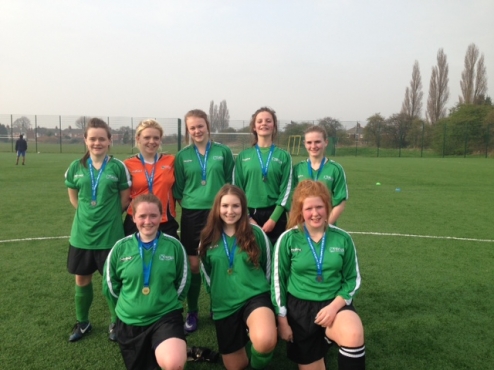 Year 11 girls won the Hull Schools Under 16 Cup 3-0.
Due to the tournament being rearranged only two teams turned up which included ourselves and St Mary's, but this did not dampen the spirits of the Sirius girls who were determined to win producing some excellent football as well as some crunching tackles to ensure they end the year on a high! The original tournament turned in to a 40 minute straight final between Mary's and Sirius.
With the attacking front of Ebony Hepworth, Megan Kay and Shannon Kay Sirius dominated from the start pressing high up the pitch and unleashing shots at the Mary's defiant keeper! With Jessica Gray and Ebony hitting the frame of the goal the first goal came from a brilliant pass from Libby Boddy over the top and Hepworth going round the keeper to score! 1-0 Sirius.
St Mary's did their best to get through the defence of Megan Whittles and Paris Turpin but both were strong and defiant.
Half Time.
Sirius girls again with some great passing opened up the defence and with a well worked move between Hepworth and Megan Kay, Megan slotted Sirius 2-0 up! With the heat on (literally) the girls worked hard to keep denying the Mary's team any chance of scoring. As the match went on the determination from the Sirius girls was ever present as they went in with some hard challenges to keep winning the ball back and to keep possession.
In the final 5 minutes of the game Ebony produced great bit of footwork to fire home Sirius with a 3-0 victory and a well-deserved Woman of the Match (Tournament).
Please congratulate the following girls on their efforts:
Chloe Gray, Jessica Gray, Megan Whittles, Paris Turpin, Megan Kay, Shannon Kay, Libby Boddy and Ebony Hepworth.