Year 11 Rugby boys retain Hull Cup for 4th season!
[04 May 2015]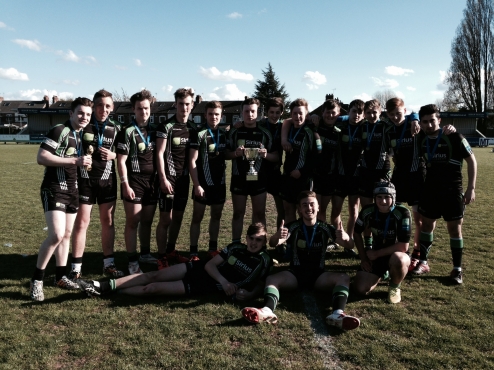 The Sirius Academy Year 11 Rugby team became the 1st team from the Academy to successful win four consecutive Hull Schools Cup Finals in what was their last ever game. The team have had plenty of success as a school team reaching the later stages of County competitions and also qualifying for National stages on top of their local successes. The boys have represented the Academy with great distinction and their 30-24 win over St Marys was a fitting finish.

Sirius started the match poorly with Marys scoring on their 1st attack for a 6-0 lead. However Sirius soon settled with forwards James Ducker, Brad McLaughlin, Josh Lomax and Tom Greenham making strong yards forward. Half-backs Lochlan Fitzgerald who was adjudged the Man of the Match, and Kenan Stephenson orchestrated the attacks with skill, finding pace outwide in Haydn Mortimer, Callum Magee and Brandon Eastwood. Ducker was 1st over sprinting clear before Magee scored the try of the match, racing in from 80 metres for a 12-6 lead after two Stephenson goals. Kai Thorpe and Charlie Jackson made strong impacts from the bench, with Haydn Mortimer, Matty Taylor and Owen Jones-Barker dealing with several threatening attacks. Fitzgerald stepped through before half-time for a 18-6 lead.

Marys hit straight back after the break for 18-12 before Fitzgerald crossed again for 24-12. Marys again hit back before Owen Jones-Barker settled the Sirius nerves, stepping through and rounding the full-back with great speed for a 30-18 advantage. Connah Oliver was controlling the game well from hooker, with Matthew Burgess putting in some big defence. Marys crossed again in the late stages to pull the score back to 30-24 however Sirius were not to be denied as they lifted the Cup.

Special thanks to Rachel Gay and 6th Former Harry Brigham for their help coaching the teams. Big thanks to Cosi Basile, Natasha Pearson and Janice Hall for driving the boys down to the games and supporting the teams. Also thanks to Martin Smith for his support with the teams in preparing them and to Jonathon White, David Gordon, Stephen Foster, Shawn Boatin and Alex Sherwood for their support during the games.

Please congratulate the following boys on their success, attitude and behaviour:

Callum Magee, Matty Taylor, Owen Jones-Barker, Brandon Eastwood, Haydn Mortimer, Lochlan Fitzgerlad, Kenan Stephenson, Tom Greenham, Connah Oliver, Matthew Burgess, Josh Lomax (Year 10), James Ducker, Brad McLaughlin, Charlie Jackson, Kai Thorpe (Year 10), Younis Al Shimiri, Brandon Butcher.