Year 7, 8 & 9 Girls Rugby, Curtain Raiser at Huddersfield Giants V Hull FC
[18 Mar 2013]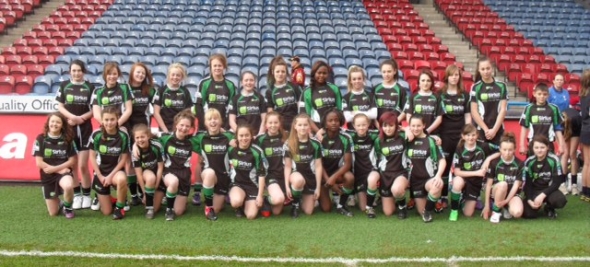 Sirius Academy Year 7, 8 and 9 Girls rugby teams won their respective games in the curtain raiser to the Huddersfield Giants V Hull FC Super League game at the John Smiths Stadium, home of the Huddersfield Giants.
With ten girls representing each age group, special thanks needs to goto all members of staff who gave up their Saturday to be with the girls and support them throughout, they are Janice Hall, Julie Watson, Alexandra Marris, Cheryl Smith and Lynda Needham.
All the girls were warmed up and mentored throughout their game by the England Womens Rugby League team, which added to their fantastic experience.
Year 7 Girls
Sirius Academy 7 Sally Nook 1
Sirius Academy continued on from their impressive display a few weeks ago when they won the Wakefield schools tournament. Running in seven tries and only conceding one in a fifteen minute game. Kayleigh Waller scored four and Molly Bigby, Amelia Longden and captain Mia Duke all going over for one each.
Year 8 Girls
Sirius Academy 4 Horbury 0
The Year 8 girls had been focusing on their defence in recent training sessions, and it certainly paid off, when they didnt concede one try in the match against Horbury. Sirius scored four tries, with three of them coming from Mia Wilkinson, along with one try from their captain Shauna Jones.
Year 9 Girls
Sirius Academy 6 Shelley 2
Sirius Academy Year 9's had not played in a competive match since June last year, but you would never have guessed that after seeing them run in six tries, in a fine attacking display. Captain Ebony Hepworth got her hat trick, with Megan Atkinson getting over for a couple of tries and Esther Godwin rounding off a very good team performance.
To cap off a fantastic day, the girls also went on a lap of honour at half time, led by the England Womens Rugby League Team, and got some loud cheers from the Hull FC fans as they walked past the away end of the stadium.
All age groups are now looking forward to their regional festivals:-
Year 11 Girls – Wednesday 20th March (York Acorn RLFC)
Year 8 Girls – Thursday 21st March (Stanningley, Leeds)
Year 7 Girls – Wednesday 17th April (Venue TBC)
Year 9 Girls – Thursday 18th April (Venue TBC)
Year 10 Girls – Thursday 25th April (Venue TBC)
Please congratulate all the girls on not only their success on the pitch, but also their attitude and behaviour throughout the day, they were an absolute credit to the Academy.
Year 7 Squad
Victoria Godwin, Molly Bigby, Amelia Longden, Kayleigh Waller, Mia Duke, Ellie Cone, Georgia Wardell,Saffron Jones, Jessica Delph, Emily Andrew
Year 8 Squad
Shauna Jones, Molly Harrison, Braxton Adams, Mia Wilkinson, Paige Fletcher, Ellie Hewitt, Jorden Shakespeare, Phoebe Ashton, Emily Savage
Year 9 Squad
Megan Kay, Ebony Hepworth, Megan Atkinson, Esther Godwin, Megan Whittles, Jodie Shimmells, Carmen Coates, Harriet Walshaw, Leoni Campbell, Mellisa Tulley