Year 7 Girls Rugby League – CHAMPIONS!
[08 Mar 2013]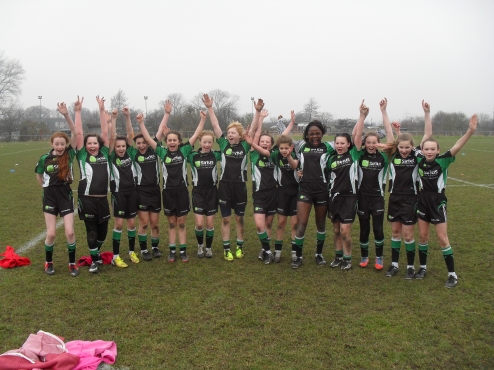 Sirius Academy Year 7 Girls played in their first Rugby League tournament at Castleford Panthers, and came away undefeated as champions in the Wakefield Schools Competition. You would have thought they had been playing rugby for years with the performance they put out, especially in defence, they had certainly listened in training and put it into practice. The girls now go onto the Yorkshire Finals, which will be played on Wednesday 17th April, and will certianly be feeling confident after their first outing.
Sirius Academy 1 Castleford Academy 1
Up first for Sirius Academy was Castleford, who are renowned for winning everything in the girls competitions. They were a big, strong set of girls, but that did not phase the Sirius girls at all, and they started the game on fire. Some outstanding defence from Mia Duke, Saffron Jones and Molly Bigby kept out the Castelford team, and it was Sirius who went over first. After a great break for Kayleigh Waller, Mia Duke was first to react from the acting half back position and opted to scoot rather than kick on the last with a fine darting run through the gap out wide. With no less than one minute remaining the Sirius defence started to tire and Castleford powered over from close range.
Horbury 0 Sirius Academy 6
Sirius really put on the style in attack on this game, with Kayleigh Waller showing her strength, speed and agility going over for four tries in quick succession, most of which were from her own half. Mia Duke also went over after a loose pass from the Horbury team, Duke scooped the ball up off the floor and raced 60 yards for a well deserved try. Ellie Cone also got the scoresheet after some great backing up, and outpacing the Horbury defence. The Sirius defence was relentless and nothing was getting past them, even out wide Rio Cambell, Emily Andrew, Jamie Watson and Ruby Randell worked hard to keep their clean sheet.
Sirius Academy 2 Ossett 1
In a very evenly matched game, Sirius Academy were quick on the score sheet, once again it was Waller who tore the defence apart with two great individual tries. One came on the back of a great run by Georgia Wardell, who dragged in five players, played the ball quickly, which made space for Waller. Victoria Godwin was coming into her own and running faster and stronger, making some good yards. Ellie Cone was distributing the ball well from the half back position and offloading well to the willing runners of Jessica Delph, Amelia Longden and Molly Bigby. Ossett got back in the game, when a mistake on their own line resulted in a set of six for Ossett only five yards out and Sirius failed to keep out their prop forward who barged her way over. In the dying seconds it looked like Ossett was going to come away with a draw, but Mia Duke chased back and tackled a girl double her size just before the try line, the scrambling defence from Sirius was nothing short of spectacular to ensure they got the victory.
Freeston 2 Sirius 4
Sirius knew they needed to win their final game for them to be the champions, and they did it in style. Waller again went over for a hat-trick of tries, but Freeston fought back and got two tries of their own. Laura Roper had her best game of the tournament and was involved in attack and defence. Captain Mia Duke also completed her hat-trick in the tournament when she scooted once again from the acting half back position finding space out wide making the scoreline 4 – 2 and giving the Sirius team some breathing space. The final whistle went and Sirius celebrated like they had won the World Cup – chants of "We are Sirius" was sung at the top of their voice.
Please congratulate the girls on their success, commitment, attitude and behavior, it was a fantastic achievement for them and the Academy, and they are already looking forward to the Yorkshire Festival in April.
Squad: Victoria Godwin, Molly Bigby, Rio Cambell, Amelia Longden, Kayleigh Waller, Mia Duke (Capt), Ellie Cone, Jamie Watson, Ruby Randell, Laura Roper, Emily Andrew, Saffron Jones, Jessica Delph, Georgia Wardell
Special thanks to Mr Wilkinson and Miss Walker for travelling and supporting the girls.