Year 7 Girls Rugby Team through to the the National Final in London
[22 May 2013]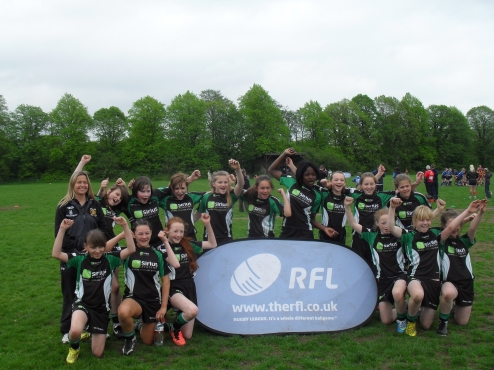 The Year 7 Girls Rugby Team took their already successful year to another level today by winning every game in the National Schools Festival, securing their place in the Final of the Carnegie Schools National Cup, where they could be crowned the best Year 7 Girls team in the country.
In the usual tournament format, there were 2 pools of 4 teams, with each team playing one another in a fifteen minute game. Sirius were in a league consisting of schools from Manchester, London and the North East.
Sirius Academy 30 Health Academy (Manchester) 0
The Sirius girls started the tournament on fire, scoring on their first set of six with Kayleigh Waller going over for her first try of the match, it was then Mia Dukes turn to outpace the defence after spotting a gap out wide. Waller was in for her second not long after, as was Duke. The Sirius defence as it has been in all of their games played so far this year was exceptional, getting numbers in the tackle and slowing the play the ball down. Molly Bigby, the rock of the Sirius defence also showed her skill and pace in attack, as she rounded off the five try blitz of Health Academy. All kicks were converted for each of the tries.
Sirius Academy 18 Orleans Park (London) 0
In their toughest game of the tournament, Sirius had to deal with some very fast and skilful players against a very organised Orleans Park team. First on the score sheet this time was Duke, who spotted a gap out wide again from the dummy half position. Again it was the Sirius defence that just proved too strong, even when they tried to go out wide Jamie Watson, Ruby Randell, Jess Delph and Emily Andrew were all up to the challenge, putting in some great tackles. The Sirius team were having to work hard to break through the Orleans Park defence, but in the later stages of the game Waller once again showed a clean pair of heels on two occasions, making the final score 18 – 0.
Sirius Academy 24 Shotton Hall Academy (North East) 0
Sirius knew they had to win this one to finish top of their group, and they certainly worked hard in the early stages to ensure they would not let this one slip. Waller went over for two tries in quick succession before she was substituted, along with Duke. Ellie Cone took control in the middle of the park, and was involved in all the attacking plays, getting a well deserved try of her own after some great footwork. Amelia Longden was outstanding again in this game, running hard and tackling strong. Laura Roper and Ameera Jessop got themselves involved, making some good yards forward. In defence it was Georgia Wardell, Saffron Jones and Victoria Godwin who took control in the centre of the field. In the final play of the game, a great pass from Rio Cambell at acting half back found Saffron Jones who went over for the fourth and final try of the game.
Sirius waited anxiously to see who they would meet in the semi final, which was to be an all or nothing game with the winners securing that Wembley Weekend place in the final. The news came through it would be Castleford High, who Sirius had defeated 48 – 26 in the Yorkshire Cup final a few weeks ago. Thie girls knew that Castleford would want to get one back over on us, so knew we had to be up for this one, not letting complacency creep in.
Sirius Academy 30 Castleford High 6
In their best performance of their Sirius career so far, it was a superb display from the girls. Captain Mia Duke led the way, and after a fine break from Waller, who dragged in several of the Castleford players, Duke knew they would be space out wide and capitalised on this. From the resulting tap restart Sirius conceded their first try of the competition as the Casteford team found some space out wide. Sirius were angry at conceding a try and were determined not to let in another. Some superb play down the left hand side found Sirius a few yards out from the Castlleford tryline, and when Waller ran onto the ball with pace and strength there was no way of stopping her. Waller then went over for another try after breaking straight through the middle. Sirius knew they had this one won, but with only a few minutes remaining Duke went over for another, before Victoria Godwin showed her pace out wide to get over for her first try of the tournament. The final whistle went and the songs of "Championies" and " We are Sirius" echoed around the pitch as the girls celebrated in style.
To put their performance into perspective, they scored 102 points and conceded only 6 points in 60 minutes of rugby league, which is absolutely incredible!
The whole squad deserve a lot of praise, their desire to win and succeed is there for all to see, and for quite a small squad they certainly do not take a backwards step. What they have achieved in their first season of playing rugby league is nothing short of spectacular and they will be doing everything they can to bring that National Trophy back to Sirius Academy. The girls will now face Manchester St Peters in the final on Friday 23rd August in London and then get to do a lap of honour at Wembley at the Challenge Cup Final – something that dreams are made of, and I cannot think of a group of girls that deserve this more.
Special thanks to Paula Turner for her support and encouragement with the team throughout the day, and to all the parents and grandparents that came along to support.
Please congratulate the full squad on not only their amazing success and achievements so far, but for their attitude, commitment and behaviour, they are an absolute credit to the Academy:
Kayleigh Waller, Rio Cambell, Amelia Longden, Victoria Godwin, Georgia Wardell, Mia Duke, Saffron Jones, Molly Bigby, Ellie Cone, Jess Delph, Emily Andrew, Laura Roper, Jamie Watson, Ameera Jessop, Rugby Randle.