Year 7 Girls thorugh to Yorkshire Final
[18 Apr 2013]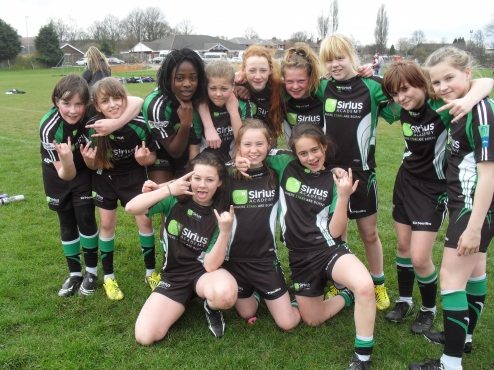 The Year 7 Girls Rugby team carried on their unbeaten run, making it 7 games unbeaten in two tournaments.
This time it was the Yorkshire finals, 8 teams competed in two pools of four. Sirius was drawn in the league of Ossett, Salendine Nook and St Marys (not Hull).
Sirius Academy 22 St Marys 0
First up for Sirius was St Marys, which consisted of some very big and strong girls. But this did not phase Sirius as their defence was superb, getting numbers in the tackle and forcing the opposition into errors. Leading the way in defence was Molly Bigby and Saffron Jones, putting in some really strong challenges. Sirius capitalised on St Marys mistakes, with Kayleigh Waller and Mia Duke going over for two tries each, with three of the tries successfully converted.
Sirius Academy 36 Salendine Nook 0
Sirius Academys attack was superb in this game, with the first try of the match coming from Waller after 35 seconds, showing great footwork and pace to run no less than 70 yards. Amelia Longden, Emily Andrew and Georgia Waredell were willing runners and making some good yards. Dukes vision from acting half back was excellent, and she managed to catch the defence out on many occasions with her quick speed at the ruck, going over for two tries again. Saffron Jones was also on scoresheet with a powerful run over the line. Waller also went over for her second before Molly Bigby also got over the whitewash with a fine individual try. All conversations kicked by Duke or Waller.
Sirius Academy 18 Ossett 0
Once again it was the Sirius defence that stood out in this game, the Ossett team had a lot of tall, strong girls, but the defence stood strong and was getting off the line quick to prevent any tries being conceded. Rio Cambell, Ameera Jessop and Jamie Watson made some good tackles out wide when Ossett tried to go around us. But then the Sirius girls turned defence quickly into attack and again it was Waller and Duke who went over, but also Victoria Godwin got on the scoresheet showing some real pace. All conversions kicked by Duke or Waller.
With three wins out of the three, Sirius finished top of group B, which meant they played runner up in group A – St John Fisher.
Sirius Academy 12 St John Fisher 0
Sirius were up for this semi final and on their first attack a superb scoot from Mia Duke saw her race in from fifty yards out. Again the defence stood strong with Jessica Delph and Laura Roper at the heart of it. The best try of the tournament came in the later stages, when a great run from Saffron Jones saw her find some space and straighten up, she was tackled just short, but with one hand she reached out and got the ball down, ensuring that Sirius Academy made it through to the Yorkshire Final.
Sirius Academy now face Castleford High School in the Yorkshire Final on Wednesday 8th May, 5:30pm KO at Featherstone Rovers, they also go into the National Finals, which is on Tuesday 21st May, Venue TBC.
To summarise, Sirius Academy scored 88 points for and conceded 0, I think that says it all!
Special thanks to Natasha Pearson travelling and supporting the girls.
Please congratulate the girls on their superb performance, attitude and behaviour.
Victoria Godwin, Molly Bigby, Amelia Longden, Kayleigh Waller, Mia Duke, Georgia Wardell, Laura Roper, Saffron Jones, Jessica Delp, Rio Cambell, Emily Andrew, Jamie Watson, Ameera Jessop.