Year 7 Rugby team reach the third round of the yorkshire plate
[02 Feb 2016]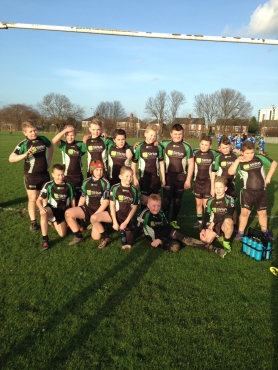 The Year 7 Boys have made it through to the third round of the Yorkshire plate with a tough match against a sizeable Malet Lambert outfit.
The game was played under the Winter sun in blistery conditions that challenged both teams. Sirius started the game very well with a great carry forward from Harry Norton to set the platform for the second phase of attack. This phase saw another great carry from Alfie Marsden who got a speedy play the ball, setting up a quick attack for an agile Mason Palmer to skip through the defence and go 50 yards to Score under the posts taking the score to 6-0 in the early stages. A confident Sirius were on the front foot again capitalising on the back of a complete set, to send Alfie Morgan crashing over the line for another try taking the score 8-0 in favour of Sirius. The early lead gave Sirius an overconfident approach to the game, which saw them take their foot off the gas and sit back into lazy defending. This gave the big forwards of Malet the opportunity to batter through the Sirius defence and bring the score back to 8-6. The arm wrestle was on at this point; for the next few sets it was end to end rugby with some great displays from both teams. The silence was broken when Sirius finally got down to the Malet 10m line, where Mason Palmer creatively played a classy 2Vs1 pass to send Robbie Jones through the line and score in the corner. The try was converted to take the score to 14-6. At this stage the game was still very much a battle of who wanted it the most. From the restart, a frustrated Malet defensive line forced a knock on from a high kick in the depths of the Sirius half; this was a crucial mistake from Sirius, as Malet sent in their biggest forward to crash through the line to bring the score 14-10 at half time.
After a stringent team talk at half time, the Sirius boys listened well and fought hard for their place in the next round of the cup. Through some great displays of teamwork and passion the boys pulled together to apply the pressure in all areas of the match, being relentless in attack and brutal in defence. From this some individual displays of excellence from Mason Palmer and Dillan Norrie secured the win for Sirius. By far the most impressive try of the match came from Mason, who stepped with pace through the defence to run the length of the pitch to finalise the score at 30-14. Safe to say he was tired after that one!
Well done and best of luck to all of the lads in the next round.
Ace Pattison, Kye Shaw, Tom Mclellan, James Matchett, Spencer Bennett, Mason Palmer(c), Liam Fox, Alfie Marsden, Dillan Norrie, Harry Norton, Alfie Morgan, Robbie Jones, Billy fenby, Sean carr and Isaac Drury