Year 8 Girls make it through to National RL Finals
[06 Mar 2019]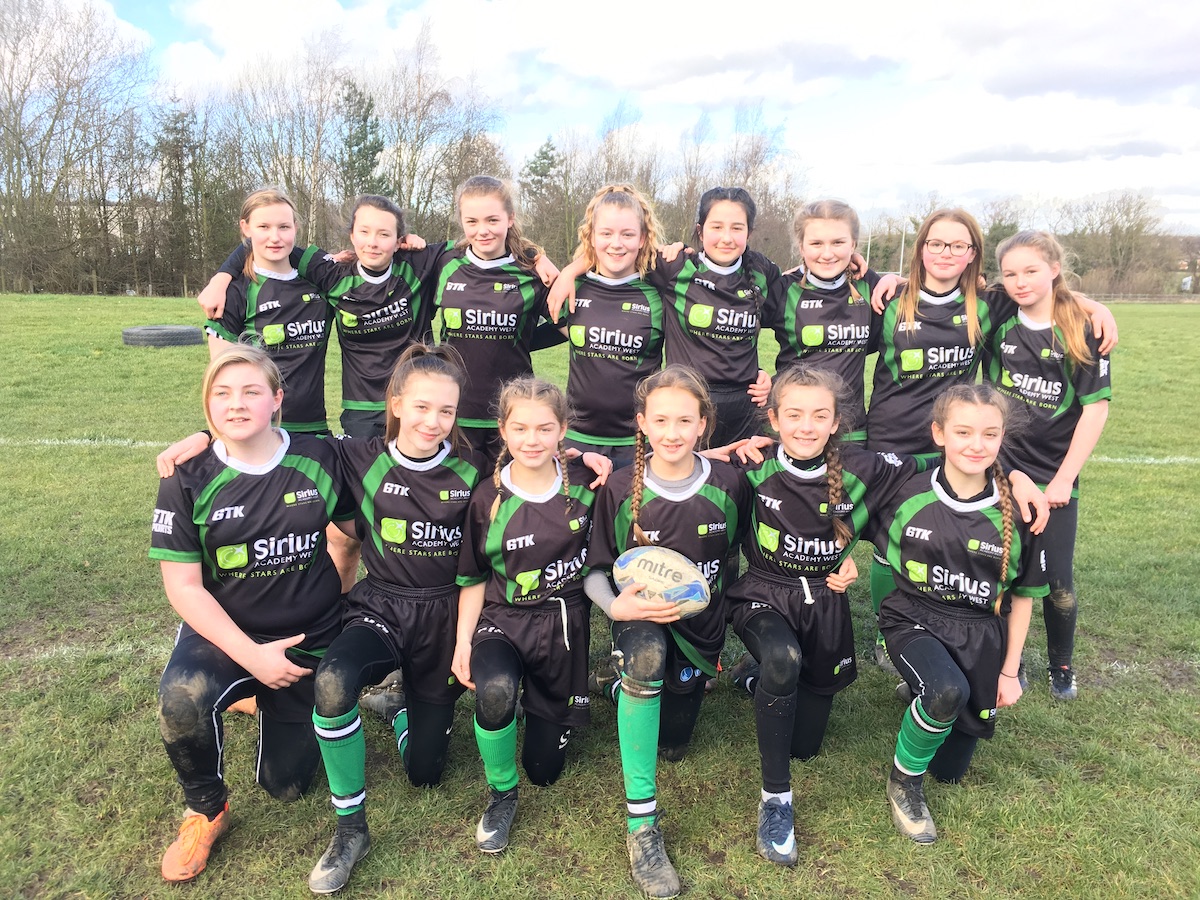 After finishing top in the Hull Schools Competition last term, Sirius Academy West Year 8 Girls were representing Hull in the Yorkshire stages of the competition. The girls had been training hard for weeks in the build up to the competition, and got exactly what they deserved by going unbeaten in all 4 games. They were drawn in a league of 4 teams, where they would play each team in a 15 minute game.
Sirius Academy West 16 Ossett Academy 6
In their first game Sirius Academy looked good from the off, utilising their powerful runners down the middle of the park in Ruby Ellis, Libby Manning and Elise Hill, leaving a big gap out-wide for Enola Aitcheson to exploit and go over, Ruby Ellis converted to make it 6 – 0. A similar try extended the lead even further, with Enola Aitcheson once again finding space on the outside and scoring her brace, making it 10 – 0. Ossett crashed over to make the score 10 – 6, but Sirius had the last word when the impressive Libby Manning powered her way over and scored under the sticks for Ruby Ellis to convert and make the score 16 – 6, a great start.
Sirius Academy West 4 St John Fisher 4
Sirius Academy had most of the ball in this game and capitalised on some good field position when captain Jasmine Fielder spotted a gap and scooted over, the conversion was unsuccessful to make it 4 – 0. The scoreline remained the same for the majority of the game and Sirius could have gone over for more tries, but some uncharacteristic knock ons gave St John Fisher some hope, and on the last play of the game they went over, fortunately for Sirius the conversion was missed, which meant the game ended at 4 – 4.
Sirius Academy West 16 Cockburn 10
Sirius knew that they needed to win the next game in order for them to top the group and go through to the semi final. Sirius started brightly and once again the big powerful forwards got them on the front foot, and this time it was Year 7 Ruby Ellis who crashed over and converted her own try 6 – 0. Ruby Ellis extended the lead even further after a great run by Elise Hill and a quick play the ball saw her think quickly and scoot over to make the score 12 – 0. Cockburn got a try back to make it 12 – 6, but once again the determination from the Sirius side was immense as they went over again. A good run by Paige Walker dragged in the Cockburn defence, and once again smart thinking from Jasmine Fielder saw her go over from close range. Cockburn scored a late consolation try, with the scoreline finishing at 16 – 10, as Sirius celebrated finishing top of their group.
The prize for finishing top of the group was to play Castleford Academy in the semi final, who are well known for having outstanding girls and boys teams at all ages. But this did not phase the Sirius girls, who were full of enthusiasm and confidence.
Sirius Academy West 12 Castleford Academy 0
In probably their best performance of the day, Sirius Academy came out worthy winners against a strong Castleford side. Sirius took a well deserved early try that was well worked. Strong running from Libby Manning and Elise Hill created space for the speedy and elusive Enola Aitcheson who found a gap and went over, Ruby Ellis converted to make it 6 – 0. The defence of Sirius was well tested as the Castleford side threw everything at them, but they defended so well as a team and could not be broken down. Sirius went over again with only two minutes remaining, again it was Enola Aitcheson who they couldn't handle as she went round the team and outpaced their wingers, no one could catch her as she went in under the sticks. Ruby Ellis converted for 12 – 0. Castleford tried everything to get a try back, but Sirius were determined to nil the Castleford side, and they got their rewards by putting their body on the line. The final whistle went as the girls celebrated a superb victory, which will now see them play in the Yorkshire Cup Final v Corpus Christie at Featherstone Rovers Stadium, and also represent Yorkshire in the National Competition on 9th May.
Please congratulate the FULL squad on their tremendous effort, teamwork, attitude and performance. They turn up as a squad to every training session that is put on for them and they have now got their rewards and I am proud of every single one of them:-
Jasmine Fielder (captain), Enola Aitcheson, Maddie O Connor, Zeina Hassoum, Holly Paige, Paige Walker, Mariah Palmer, Amber Leake, Megan Britton, Elise Hill, Libby Manning, Eden Greenwood Laws, Maci Campbell and Ruby Ellis (Year 7)
Special Thanks to Miss Low for her continued support with the Year 8 Girls rugby team.