Youth Speaks 2016
[24 Feb 2016]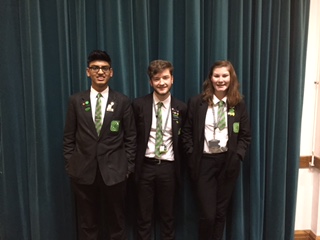 Last night 3 students from Sirius academy took part in the Humberside and District Youth Speaks competition organised by the Rotary Club and hosted by Hull University. The competition allows young people from Hull, Lincolnshire and the East Riding to voice their opinions on a subject matter in front of large audience.

Salman Abid (Chairperson)
Alex Williamson (Speaker)
Abigail Hattersley (Vote of thanks)

The team were required to speak for a total of 10 minutes on their topic of vanity and perfection and were also challenged with a question requiring an articulate and spontaneous answer. The team delighted the audience and judges showing an astounding level of composure under pressure and on several occasions had the audience laughing with their witty presentation. Unfortunately the team did not place in the top three, however the experience competing for the first time in such a competition mainly against sixth form students is a huge achievement.

If you see any of the team please congratulate them on a fantastic performance and for getting into school today following a very late night.

The team were also supported by several other students and budding young speakers from the Academy.
Libby Fox
Daisy Johnson
Ally-May Radford
Raza Aziz
Kama Clifford
Dimitri Grammenos

All of the attending students were a credit to the Academy, speaking to members of Rotary club and other schools with aplomb.